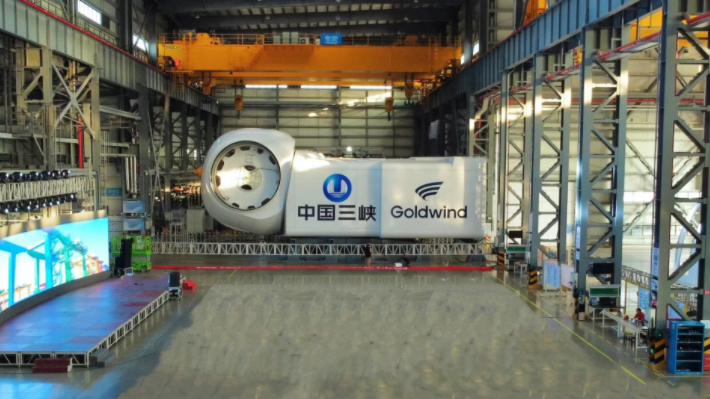 Izgradnja prve kineske velike priobalne vetroelektrane koja koristi turbine sa jednim kapacitetom od 16 megavata počela je u subotu, naveo je Gong Kuangmin, zamenik generalnog direktora kompanije "Zhangpu Haixia Co." podružnice kompanije "China Three Gorges (CTG) Corporation".
Trenutno se vetroturbine sa pojedinačnim kapacitetom manjim od 10 megavata obično koriste u priobalnim vetroparkovima u zemlji, kaže Gong.
On dalje dodaje da što je veći kapacitet turbine, to će biti veća efikasnost proizvodnje energije i niži troškovi razvoja i rada.
Vetropark je smešten u vodama 32,8 kilometara od okruga Žangpu u blizini grada Džandžoua u istočnoj kineskoj provinciji Fuđijen. Očekuje se da će početi da šalje struju u mrežu krajem avgusta.
Sa ukupnim instalisanim kapacitetom od 400 megavata, postrojenje će proizvoditi preko 1,6 milijardi kilovata električne energije godišnje nakon završetka i uštedeće 500.000 tona standardnog uglja. Ujedno će doprineti smanjenju emisije ugljen-dioksida za 1,36 miliona tona svake godine, navodi se u saopštenju kompanije.
Gong je rekao da će integrisati vetropark sa proizvodnjom vodonika na moru i razvojem fotonaponske energije kako bi promovisali sveobuhvatno korišćenje morske energije.
Turbina od 16 megavata, koju su razvili "China Three Gorges Corporation" i "Goldwind Science and Technology Co", sišla je sa proizvodne linije u novembru 2022.
Pripremio: Bojan Pavlović